~Pictures are never perfect.

Angels:
Natasle: 21 year-old angel with long, touseled blonde hair. Has natural light and dark streaks. She is very quiet, but also very daring. She is somewhat short, with light green, and a slim body that is very pale. She often gets tired of the clouds from above, and ventures back down to Earth. She gets there by riding her pegasus, Feather. Wears a long, classy angel dress. (I really don't know what else they wear xD).
Michael: 26 year-old angel with short, black hair and deep blue eyes. He is a dark angel, and Natasle was his fiancee until he abused her, and she fled in terror. Even though Natasle despises him, Michael still continues to love her. He is the older brother in his family, and Drake is his younger brother. It was written in their destiny that one had to kill the other, and Michael thinks he will be victorious. He wears some old, ripped jeans and a plain black T-Shirt with a black jacket. (Also has a part-time job at Starbucks xD)
Even though Anan isn't going to be a major character in my angel RP, I might as well put him up here too.
Anan: A bright young child, just about 2 years old to be exact. He takes after both Natasle and Michael, with the jet-black color of Michael's hair and his dimples, but takes after Natasle with his curly hair and slightly hazel eyes. He has an amazing memory for a 2 year-old, and he can walk and somewhat talk. He calls Natasle, "Nene", and he is currently living with his foster parents.
~Can't find any pictures for him
Pegasus:
Feather: Companion and Pegasus to angel Natasle, but often vertures off on her own. She has a glossy white coat that shimmers in the sun, and her mane and tail change color as the sun changes position. A young pegasus, just about 5 years old, and can be a real pain-in-the-neck. She loves to play mind games and can be very stubborn, but is very compassionate and friendly.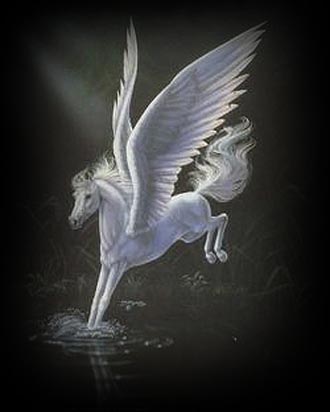 Humans:
Nicole: She is quite feisty for a 20 year-old. She is rebellious and loves to break the rules. Nicole is a trouble-maker, but is also very misunderstood. She came from a troubled childhood where her parents and friends abused her, so she ran away to a remote town in North Carolina on her Harley when she was only 17. Her Harley is black with red flames streached all across the sides, and it is her most prized posession. Nicole is not a people-person because of her past, and she is very independant. She does things her own way, whenever she wants to, wherever she wants to. She also has a small moon tattoo on the lowest part of her back. Has chocolate-brown eyes and long, curly brown hair. She is very slender and curvy, and a little bit on the tall side.
Foals:
Trivia: A small, brown Arabian mare with bundles of energy. Her mother was killed by a pack of roaming coyotes, so she is being fostered by Camille, one of the mares in the herd. Camille suffered a similar fate... her young foal, aged just 2 days old, was killed by an evicted stallion. Trivia is about 6 weeks old, and she loves to romp around and play, even if Camille wants to go to sleep.
Wild horses:
Camille: Currently fostering young Trivia, Camille, is a 8 year-old grey Anglo-Arab mare. She is a quiet young female, and she tries not to attract too much attention ot herself. She is one of the lower ranking mares in the herd, but does not really mind. After the death of her foal, she has been a little lethargic, but makes sure she has enough energy to keep up with Trivia. She is looking for a steady mate, because her mate disappeared shortly before the birth of her foal.
~More to come

Last edited by Palatine on Wed Feb 03, 2010 11:25 am; edited 8 times in total (Reason for editing : Still posting more charries :3)



Posts

: 26


Join date

: 2010-01-23


Location

: On my little planet GlubGlub ;3



Naaaaiiiiceee

_________________
The only way to really live, is to really believe~
-Fayde
Admin




Posts

: 62


Join date

: 2009-12-23


Age

: 19


Location

: Certainly not at Uranus O.O






Posts

: 63


Join date

: 2010-01-23


Age

: 24


Location

: My dear little box. No touchy.



*Laughing out loud*

Sort of new at this, so having good charries is a good start to things, I'm guessing ;D
Thanks :3



Posts

: 26


Join date

: 2010-01-23


Location

: On my little planet GlubGlub ;3




---
Permissions in this forum:
You
cannot
reply to topics in this forum